This past Saturday I went to the 2nd annual So Cal Social. This is a get-together for crafty bloggers who live in Southern California organized by
Beverly
and
Vivienne
.
Last year
I really enjoyed it and was so happy to meet new people at this year's event. So without ado, here are Top 5 things that I learned at So Cal Social:
Bloggers congregate as So Cal Social gets underway
5. If you love reading the blog, you're gonna love hanging out with the blogger
On a day to day basis, I really look forward to my down time when I get to curl up with a cup of coffee and my RSS reader. I love reading the latest posts from blogs I follow and I come to feel like I really get to know a person through seeing their blog evolve. What I really love about this event was getting to meet people whose blogs I read and turn that relationship into a real one.
Halloween @ Julep's
4. No one can resist shopping and freebies
The first part of the day entailed something we all love to do - shopping! We walked through Old Town Orange and many shopkeepers had special giveaways waiting or us from So Cal Social sponsors. I particularly love the antique shops here, I've shared with you my quilt finds at Down Home Antiques before
here
.
The quilt closet @ Down Home Antiques




3. There is a lot to be learned from other people
What was really the best thing about this event was the new friendships made. After our walk we sat down for dinner and had more time to mingle. I enjoyed getting to know
Barbara
,
Tara
,
Monika
, and
Dinah
. Now I'm not as active a blogger as these women are, and it's never been my goal to become a full-time blogger, but I certainly did learn some tips about how I can improve my blog and grow.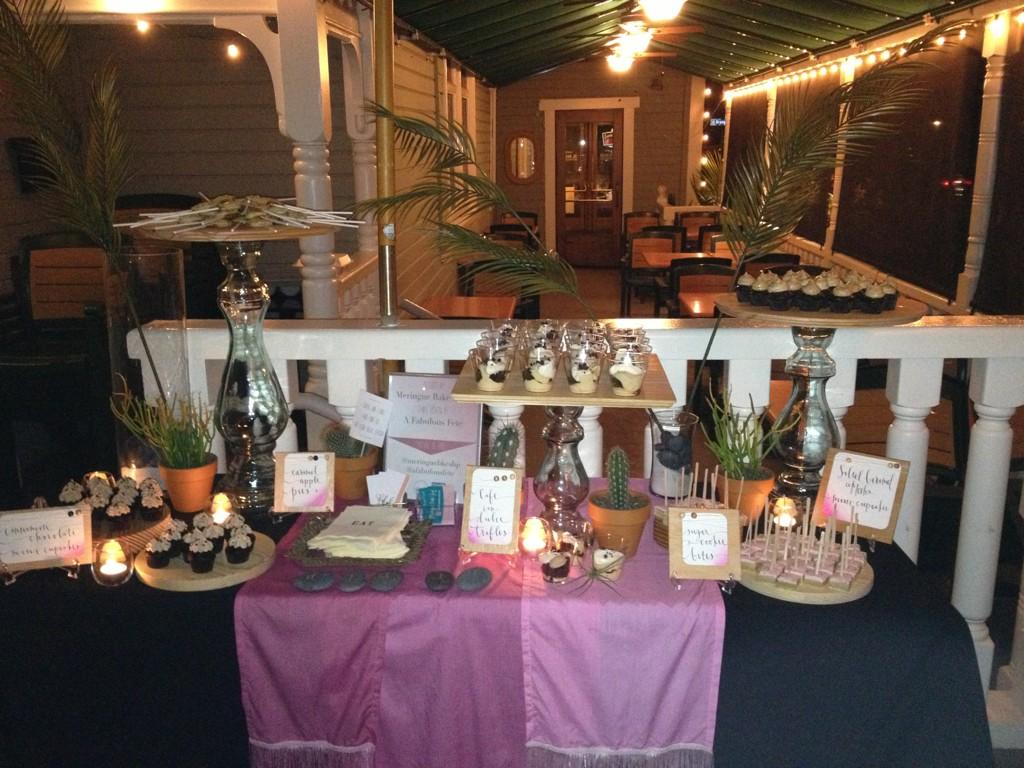 Yummy desert table! Photo tweeted by @meringuebkeshp
2. No, they're not at the computer (or smartphone) all day
It was a common sight to see people whip out their smart phone to quickly tweet or instagram about what was going on, that's to be expected when you bring 60 bloggers together for some fun. But as a reader when I see a new post from bloggers every day, or a new quilt completed each week, I wonder whether they have time for anything else! I appreciated hearing about how other people balance their creative time on top of their family, jobs, and other life responsibilities.
1. Sometime you just gotta jump
Our evening wrapped with Mark Montano as our keynote speaker sharing his journey of working in the fashion industry, becoming a television personality, and now a successful craft book author (his latest book, the Big Ass Book of Bling, will be released next month). Although his resume is filled with lots of success, he shared that 90% of the time he tried he would fail, but he kept at it in pursuit of the 10% of the time when he succeeded. He encouraged us to pursue our creative passions, "Jump off a creative cliff and don't care where you land. Be fearless."